Oreo & Lucy
Parents: Panda x Dallas (Oreo) & Meeko x Captain (Lucy)
Owners: The Cantins, Santa Barbara, CA
My family endured a major tragedy that captured national attention early 2018 destroying our loving family of four plus a frolickly Irish Setter to just two of us - my daughter and I.
My daughter endured being entombed under half the house and 20 feet of mud in a major mudslide that washed away our home with our family in it.
After physically healing enough, I knew I needed to get a dog for my daughter and she was set on getting a 'doodle'. Her doctor suggested getting her a therapy dog to help her cope with the trauma she endured.
I looked at many places but realized with everything my daughter and I were going through I could not take on the job of getting a young puppy and doing all the training.
I wondered one night "are their trained puppy doodles?" and I googled that and voila up came doodlecreek.com with the tab on available 'trained' doodles for sale.
Trained puppy doodles and a nice selection to choose from - this was perfect for us.
It was amazing for us a 5 month old trained puppy that would still have cute puppy without the work and fatigue of 10 week old puppy training. I smiled knowing I would avoid 'puppy teeth' which had in the past ruined expensive jackets, blazers and clothes. I brought home two trained puppies who did not soil in the house, eat furniture nor destroy things. This was awesome! And, being trained they seemed to assimilate to our home even faster than when I had young puppies in the past.

My experience with Doodle Creek was terrific.
Great communication and my first puppy Oreo was an Olde English Doodle. He was trained so well by Full Pawtential Dog Training and trainer Heidi it made his transition to our family smooth.
The distance from Santa Barbara to Ontario, Canada did not deter me. I flew to get Oreo and meet the trainer which was nice.
I loved Oreo so much and was so thrilled with his health, temperament and experience I called Nathan at Doodle Creek to get Oreo a friend. He recommended Lucy an English Goldendoodle that would get along well with Oreo.
Today, my daughter and I have a happy home with our two puppies whom we love and who love one another. The tragedy my daughter and I endured is being healed in some way with these two love bugs we so adore.
I highly recommend Doodle Creek if you are looking for a great family dog who is a showstopper in looks and in great health.
Kim and Lauren Cantin
Santa Barbara, California
Solo
Parents: Yuna x Wilson
Owners: The Parr Family, London, ON
Nathan
Solo is home - happy and healthy.
If I may give some outstanding feedback about the purchase and imprinting.
You and your family made the purchase process so smooth and effortless. As Solo is our first dog we didn't know what to expect. What we got was nothing short of first class. You were available by email and in-person meetings every-time we asked; you allowed us hours to select the right dog for our family when it came time on that day in January.
We literally couldn't ask for more and whatever feedback process you would like me to use - I would be more than happy.
Michelle Morin (Solo's trainer) is a star; a true class act and 100% amazing!!! As you remember I was hoping for someone that would not only care for our puppy in the right way but imprint our dog in such a way as to be personal to us; take the time with me (as I am very hands on and inquisitive) and allow us the opportunity to spend time with our dog throughout the process. I wanted someone with a wealth of knowledge.
We couldn't have been more satisfied. Michelle was patient with us; very informative; so helpful; deliberate about the training and allowed us to have the necessary "personalized" imprinting for our dog.
I knew from the first moment I talked to her on the phone and up to and including the day we picked up Solo that she was the right trainer for us and for our Solo.
I am so thrilled to say that we feel like she is part of Solo's extended family.
Matt
Jack
Parents: Paris x Bruno
Owners: The Blouins, Toronto, ON
Three girls and a dog!
We (I) wanted to add a dog to our lives a few years back. The dog was for Sophie, our youngest daughter - a friend to love her unconditionally, a calm presence to come home to after school. With both of us working full-time and knowing I was basically asking for the temperament of a therapy-like dog, I knew a trained puppy would probably the best solution for our family.
As soon as I talked to Nathan, I felt heard. I felt he knew exactly what I was looking for. He guided me on a potential upcoming litter and selected our puppy for us. A few months later, Nathan called me and we met "Jack" at the trainer's house. He was beautiful and fluffy, like a teddy bear bouncing around. We cuddled and played and... fell in love with Jack. Sophie and I visited Jack again half way through his training.
The day came to bring him home. Jack was at Nathan's house. Nathan has such a warm, welcoming and loving family. Jack greeted me eagerly as if we had always been meant to be together. His trainer had sent me training videos and I knew all the commands. So, the transition was seamless.
Jack is like a little boy in a velvety fur coat. He is so sweet and cuddly and, oh so smart. He loves to be around us all the time. He is always so happy to see us. He loves playing with Sophie. On December 31 of our first year with Jack, my husband said "Jack was the best decision of the year".
Thank you, Nathan, for helping us find the perfect addition to our family! He's awesome!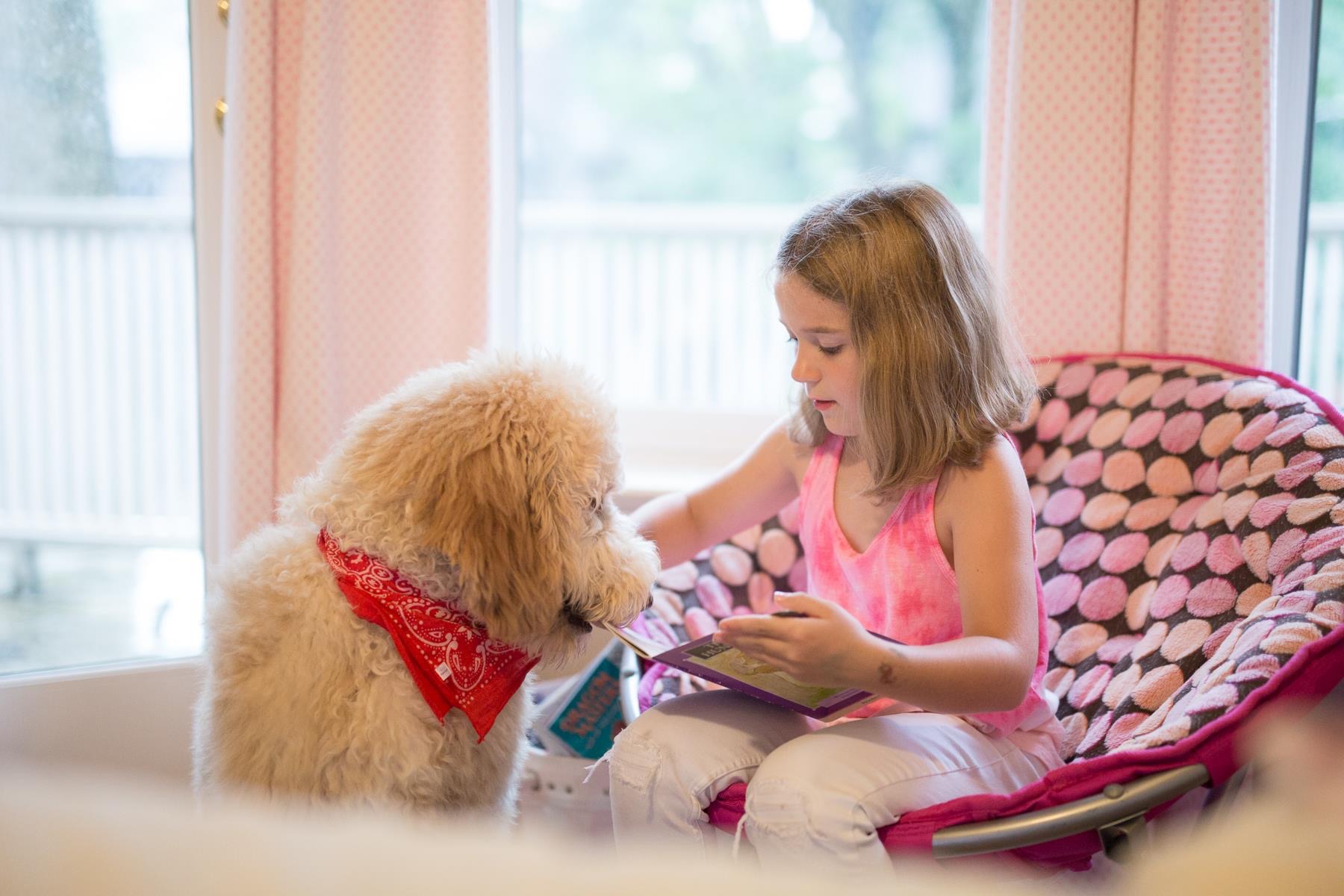 Henry
Parents: Phoenix x Watson
Owners: The Bregar Family, Toronto, ON
Hi Nathan,
I just wanted to thank you again for your ongoing support. We really do appreciate it! Henry is an incredible puppy and is the perfect addition to our family. We are so grateful that you introduced us to him! The imprint training program that you offer via Heidi is outstanding. We get countless compliments on Henry's demeanour. People don't even believe me when I say that he's just 6 months old – he is that calm and well-trained! He is also extremely intelligent, and super-cute to boot! I've attached a recent photo of him and will send more updates soon.
You guys are amazing!!
Take care,
Cristina
Pipi
Parents: Pippa x Oakley
Owners: The Williamson Family, Woodside, CA
Hi Nathan,
This is Pipi. She is three now. Tari trained her and we had previously called her Brownie. I will send some more photos. She is such a sweetheart and is my true angel. She actually stayed with me when I had a seizure and collapsed on the side of the road. She is my companion and goes everywhere with me. She loves the kids and our cat. She loves to run and play on the beach, go for walks, and snuggle. She is ready to cuddle anytime. She listens really well and is so smart and easy to train. She has the funniest personality. She up for anything or just quiet time at home. We love her so much and can't imagine life without a doggie.
The first time I spoke with you, you understood what type of dog I was looking for and matched us up perfectly. I felt comfortable with our phone conversation and being in California and you in Canada, we didn't even meet Pipi. Tari was a great trainer and prepared our dog to be so well adjusted. She was even so calm and sweet to our cat. She was completely potty trained and able to stay in her crate if we needed her to without any accidents, and being busy with kids, I just didn't have the time. Pipi is my first dog and having her trained first was well worth it for us!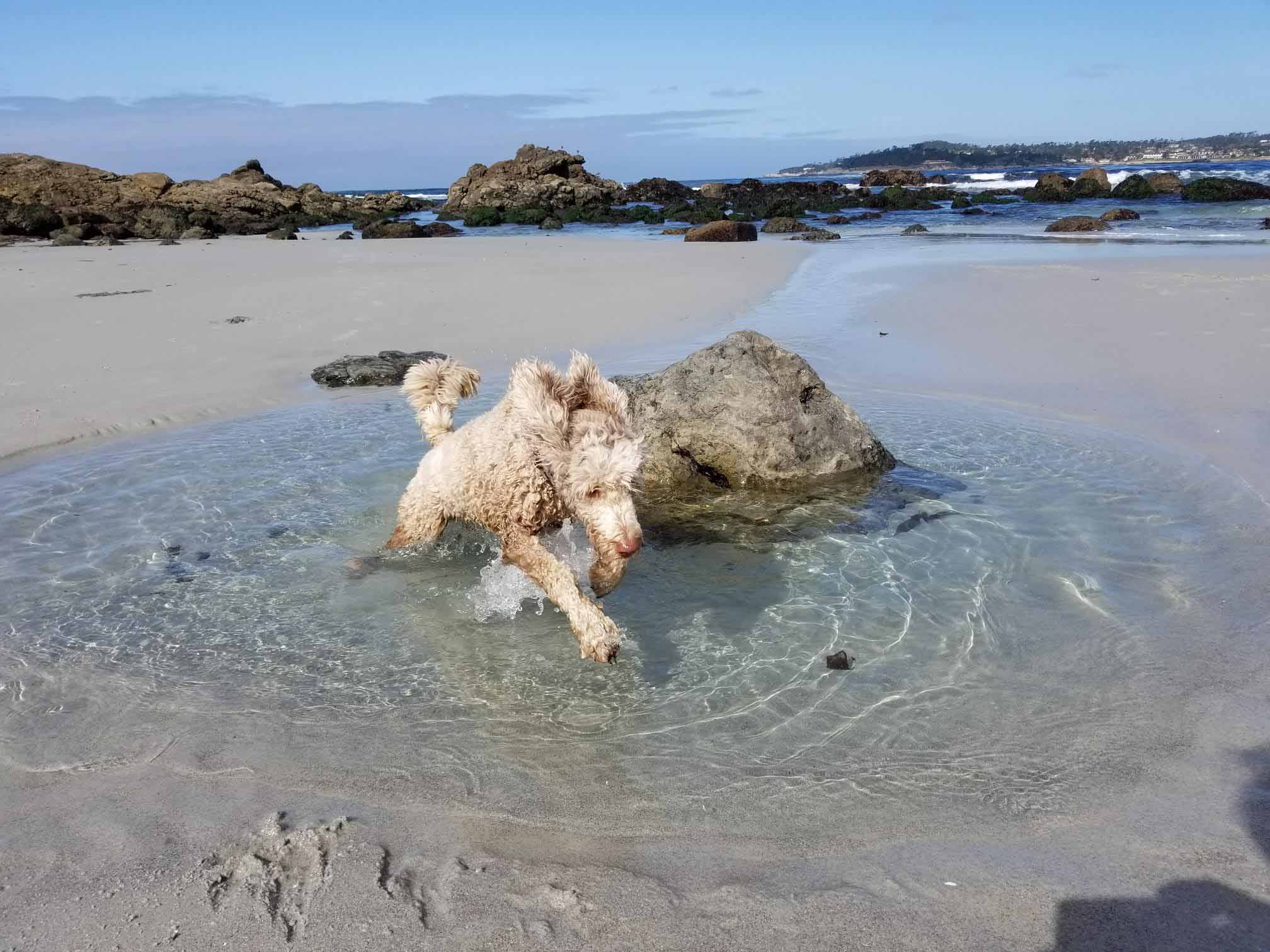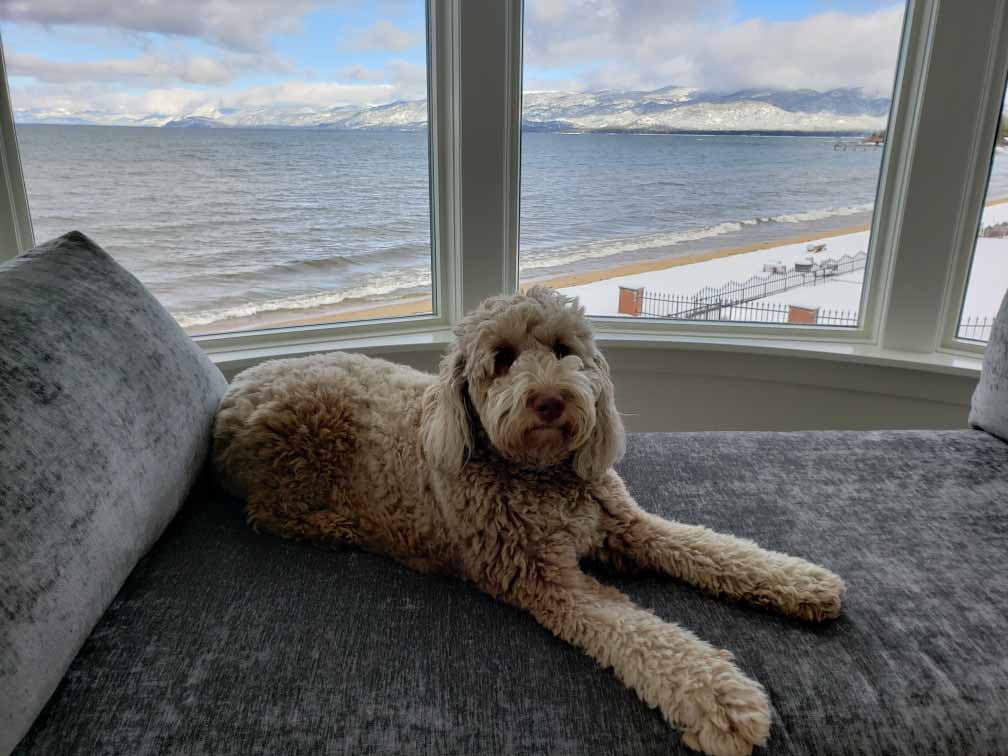 Bella
Parents: Elora x Oakley
Owners: The Mantias, Toronto, ON
Bella joined our family in the fall of 2017 from Doodle Creek. We had been debating getting a dog for some time, and ultimately decided on getting Bella trained by Doodle Creek before bringing her home. Simply put we couldn't be happier. While Bella came home a little older than "typical" puppies she was every bit still a puppy but exceptionally well behaved and obedient. She listens, obeys commands, walks obediently next to us and had almost no accidents in the house. She quickly came to love us and our children and we never felt that we missed out. Our investment in having her trained has been worth every penny as it has made dog ownership an absolute delight and Bella thrives in every situation (good with other dogs and with babies, enjoys drives and boats, and seems to have incredible EQ). During transition the trainer was helpful in ensuring we were ready for Bella's arrival home and stayed in contact as we learnt to be new dog parents. Thank you Doodle Creek!"
Cooper
Parents: Tessa x Captain
Owners: The Hodges, ON
Dear Nathan,
We wanted to let you know what a wonderful addition Cooper has been to our family. As you know, we were looking for a trained puppy that was easy going, loving, and comfortable with transitions since we were living abroad and travel often. Cooper is our family's first dog, and the training he received allowed us to enjoy the puppy stage without the stress. Cooper has a lovely temperament, he doesn't bark, is loving and everyone who meets him, loves him.
Cooper's training was very successful and more than a year later (with continual practise) he still follows the commands. Melinda, the trainer, was in touch with us to see what commands we wanted Cooper to know in addition to the basics - when we picked him up he knew them all. Cooper was house trained, crate trained, bell trained, could sit, lay down (and release), stay, knows "off", wait, come, and can shake a paw to say hello. Many of these commands he knows by word, but also by signal. Before purchasing Cooper Melinda answered all of our questions, and she was available via email and Skype to answer any questions during the transition stage once we got him back to Italy.
Additionally, I'd like to point out just how helpful your guidance was in making sure we were selecting the right dog for our family. You provided us with your advise, but also by purchasing a trained dog you had us speak with two different trainers about different puppies we were considering. Since the trainers live and work with the puppies on a daily basis they were able to tell us if the personality and temperament were a good match for our family. Cooper was a perfect fit - he has been on two plane rides and was calm and did very well without any accidents on both 9 hour flights (despite being only 5 months old the first time).
Thank you again, we highly recommend Doodle Creek to all of our friends and family - we know of at least two families that have purchased puppies from you since!
Susan and Bruce Hodges
Bella
Parents: Flicka x Buckwheat
Owners: The Obregon Family, Houston, TX
Hi Nathan,
Nice to hear from you, I hope everything is going well!
Bella is doing great, she is fully settled in as a member of the family. Bella going through training before coming to us, at about 6 months, was a huge help. She was comfortable in her crate, there was no crying at night, and most important - she was house-trained!! It was a big help to us with busy lives that Bella could join us with the basics already covered. Her trainer, Linda, was also helpful in sharing her habits and likes/dislikes after she arrived, so we could make the transition easy.
We are so happy to have Bella in our family - she is kind, and gentle with our young daughter. We are looking forward to getting another Goldendoodle in the coming years!
Best wishes,
Courtney Obregon
Finn
Parents: Penny x Dallas
Owners: The Davis Family, Toronto, ON
We got Finn, a female Olde English Goldendoodle, from Doodle Creek as a trained pup. Having a trained dog join our household has been a great experience.
We were able to visit Finn several times while she was living with the trainer - both at the trainer's house and at ours. During those visits, the trainer, Kyla gave us plenty of information about what Finn was learning and what we could expect when she joined us. The trainer also asked what rules we would have for Finn so that she could work training to fit us.

The trainer has been available to us in many ways. From the time Finn went to her for training, she has chatted with us a lot by email and text. She has visited us several times since Finn moved to our house to help us learn how to tap into all that Finn learned in training. And the trainer continues to be available to us in person and by email to help us.

Finn's transition to our house was very smooth. Kyla brought her to us when the training was completed and stayed for about an hour. While Finn was sad when the trainer left, she quickly turned her attention to our family. She whined briefly at bed time the first few nights, but this did not last long and the whole thing passed in less than a week. Finn quickly adjusted to us being her main people.

Finn is a lovely and well-behaved dog and has been since she first came to us. She doesn't beg at the table, she's gentle (though excited) with new people, she came to us house-trained, and she loves people and other dogs. She's very friendly, loves to play, but is also quite mellow when we have other things going on in our house.

- Mitch
Bailey
Parents: Paris x Bruno
Owners: Dave and Carolynn LaPenta, Newmarket, ON
Nathan - we have often thought about sending you something. We bought what was once "Ripley". He was one of your first dogs that you sold as a trained puppy. We changed his name to Bailey. He is now a Certified St. John Visiting Therapy Dog. He actually passed his test when he was just a year old. He has been an incredible addition to our family. Each of our 3 boys plays with him in a different way and he recognizes the differences between each of them.


His loyalty and desire to be with you is exactly as advertised.


You can follow him on Instagram - @furry.companions
My wife, Carolynn, is his certified handler with St. Johns. He has been to universities and colleges to help reduce exam stress and first day jitters. He spent two years working at a Seniors Home. He has been to the hospital to see patients and much more.
Lexie
Parents: Piper x Captain
Owners: The Burbige Family, Rockville Centre, NY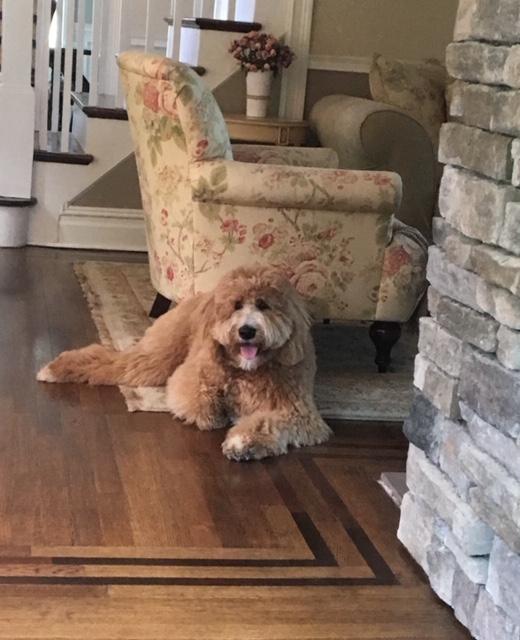 Dear Nathan and Doodle Creek,
It's been a little over 2 years since we got Lexie, our Standard English Golden doodle, from Doodle Creek. I wanted to thank you for such a wonderful addition to our family. Lexie was one of your already trained puppies by your trainer Lyla. She did such a great job and when we received Lexie she was so amazingly trained we didn't have to worry about a thing. She was potty trained, leash trained and did not chew a thing in our house! I highly recommend doing this extra training for anyone that doesn't have time or patience to train a new puppy. It made the experience of adding a puppy to our already busy family so wonderful.
Lexie has grown into a beautiful dog with such an amazing personality! She is also very smart, I feel she understands and behaves better then my children sometimes!! Please see the attached pictures and thank you again very much for breeding such an amazing puppy. We often talk about getting another so you might hear from us again soon!!
Thank you,
Ray, Heidi, Ella, Nathan and Lexie Burbige
Cozmoe
Parents: Macey x Oakley
Owners: The Cooper Family, Aurora, ON
Cozmoe is beyond AMAZING! We love her sooo much and the training she received from Melinda is soooooo instrumental in our journey with Cozmoe. Given our son's serious health condition we could not have coped with trying to train a puppy. Melinda did such an AWESOME job of not only training Cozmoe but most importantly to us providing Cozmoe with a loving and kind and supportive home environment that matched our family values. We are forever so very grateful to Melinda for giving us the most incredible gift of our puppy Cozmoe. Cozmoe has transformed our family's lives. We love her sooo much. She is pure JOY and LOVE and is soooooo incredibly easy to care for every day thanks to Melinda and her incredible training. Although Cozmoe was crate trained (as that is what we wanted), since coming to our home she now sleeps in our beds every night and we love that connection with her. Even though Cozmoe seems to love food, she has never once begged for food or jumped up on a counter or on us as we are eating. She is AMAZING as we eat. She just rests under the kitchen table – this is most definitely due to the incredible training provided by Melinda.
We can't way enough AMAZING things about Melinda, Cozmoe's trainer! We are forever grateful to her 😊
Thanks so much, Jenny
Cooper
Parents: Tessa x Captain
Owners: The Luetkehoelters, Toronto, ON
Hi Nathan,

Thank you for your email. We are long overdue in letting you know how much we are enjoying Cooper. He is a wonderful dog and is a great addition to our family. He is a very gentle and well behaved dog. He gets lots of attention everywhere he goes. People are amazed that he is still a puppy and that he is so well behaved.

Our two boys adore him and Cooper has brought a lot of joy into our family. We knew that any dog would make the boys happy, but that a trained dog would make all of us happy. We have not been disappointed. Tari did an amazing job with Cooper, he came knowing all of the basic commands. He heeled on his first walk, is fully crate trained, and of course was house trained. He just keeps getting better and better. To quote our vet, "Cooper is the puppy everyone hopes that they are getting."

Thank you

Jon and Will