Flynn
Parents: Tessa x Captain
Owner: Dana, Simcoe, ON
In July of 2017, we decided we wanted another puppy after being without a dog for about a year and a half. We did a lot of internet searching, and asking people questions about breeds, and breeders. We came across Doodle Creek and instantly we were captivated by the website. I emailed Nathan, and received a prompt response. Our quest for the most amazing dog began that day! Through emails, and phone conversations, Nathan seemed to be able to tell us which litter would have the right puppy for us…..and he was so right!!! Flynn was born on July 16 2017, to parents, Tessa and Captain. The puppy pics were posted at about 2 weeks, so we got to watch them grow, and get excited for the day we would pick out our male, or rather the day he would choose us! We have had a year and a half of such amazing memories with the Best Goldendoodle Ever! He is smart, gentle, goofy, and just loves to be with people. He greets my clients in my hair salon every day, and stands in the window and waves goodbye to them! He makes so many people smile outside of our family. I cannot say enough great things about Doodle Creek and Nathan.
Thank you for giving our family the best addition we could ask for!
Cooper
Parents: Piper x Captain
Owners: John and Dennis, Toronto, ON
Dear Nathan,
We are delighted to recommend you and Doodle Creek. Our pup is "Cooper" (Piper/Captain 2015).
Of course we're grateful for the careful attention to the health and well being of the pups and their parents at Doodle Creek. But what really stands out for us is Doodle Creek's attention to character in their breeding program. With Nathan's guidance we selected a pup so well matched to our own temperament. Our 'Cooper' has been so well-mannered, easy to train, and amiable with every creature he encounters, from puppyhood onward. He's always happy, eager to join us wherever we go, and content at home alone when he can't. That's excellent breeding.
Ozzie
Parents: Tessa x Captain
Owners: Marni & Graydon, Guelph, ON
Our Standard English Goldendoodle, Ozzie, was born in February 2018 from Tessa/Captain. Pick-up day was like Christmas morning! Although it was hard to focus on anything but the adorable and perfect puppy in or arms, we were pleased to see that the Doodle Creek facility was clean and welcoming. All of the dogs seemed happy, healthy and well cared for. Nathan provided excellent customer service and an easy process for finalizing the adoption.
Although we are a little biased, Ozzie has been a perfect pup in every way. Not a week goes by without someone commenting on his temperament or good looks. He is a very loving dog that loves to cuddle, nap and play outside.
Ozzie's easygoing nature and social personality allows us to bring him around new dogs and people without any worries. Ozzie learns quickly and is easy to please, which made puppy classes and training at home easy and fun. If you are looking for a goofy, fun loving, family dog, we highly recommend you consider a Doodle Creek puppy.
Smokey
Parents: Skye x Bruno
Owners: Ron & Audrey Audia
Nice to hear from you Nathan. Would be glad to forward some of Smokey's pics to you and happy to provide a testimonial of our experience
in dealing with you. We have no hesitation in saying we found you easy and pleasant to deal with and couldn't be more happy with our
decision to purchase a dog from one of your litters. Smokey is just a wonderful dog. He is now 4 1/2, healthy and very happy. We think
He is also very handsome but you can judge for yourself on that one. For anyone interested in getting a dog, I would highly recommend
Nathan and Doodle Creek for their choice. They couldn't go wrong as you provided everything including arranging shipping if necessary.

Thanks again, Ron & Audrey Audia
Obi
Parents: Tessa x Captain
Owners: The Pettits, Mississauga, ON
Hi there,
We are the proud owners of puppy number 4 ( from Tessa and Captain). He was part of the November 1, 2016 puppy litter. We named him Obi after Obi Wan in Star Wars:)
We absolutely love Obi! Nathan, you were absolutely right! A puppy bred by Tessa and Captain is absolutely so friendly, goofy, good- natured, happy, etc.! Obi tolerates the shenanigans of our 3 growing boys, interacts with the public so well, and is just so well behaved!
He was definitely worth the wait! I remember Nathan, when I called you in June 2016 to put my name on a waiting list for a Tessa/Captain puppy. Those 6 months before we got to meet him were so long, but we are so glad we chose you and Doodle Creek to be our breeder.
Obi not only has a fabulous disposition, but he is is also really healthy. My husband always says it's because Doodle Creek chooses to breed dogs from all over. They are not in- bred.
We remember when we came to choose Obi, you were so kind and patient. My husband and I brought our boys to choose from 8 boy puppies! It wasn't easy, and it took us a while to choose! You let us take our time and didn't rush us:)
Again, we are truly so happy with our 2 year old golden doodle, Obi. We cannot picture life without him!
Thank you for providing us with such a great puppy experience!
Sincerely,
Carolyn, Andrew, Aidan, William, Carter and Obi Pettit
Theo
Parents: Meeko x Captain
Owner: Sarah, Toronto, ON
Hi Nathan!
Theo (@6ixgawdtheo) is almost 8 months old now, he was just shy of 50 lbs when we weighed him in December.
He's happy, smart, friendly to everyone he meets, a little mischievous (as most puppies are!), a bit of a diva, a huge goofball and incredibly loving. Theo will go up to anyone and act as if he's known them his entire life which just speaks to the quality temperament of the dogs you breed! He especially loves snuggling up to strangers on the subway. Even at the dog park in between romps, Theo will hop right up onto the benches and snuggle with some of the other dog owners when he gets tired. The owners all think it's adorable. The dogs on the other hand? Well, they get a little jealous.
I get complimented almost daily on how handsome he looks - because his coat and colouring are gorgeous. His hair was very straight and fluffy as a young pup but now his waves are starting to come in. Theo gets along great with other dogs and is quite the social butterfly at daycare. He could play all day if he could.
He's also very smart and has proven to be quite the resourceful pup. I kid you not one night Theo escaped from his x-pen while I was at a Christmas Party, pulled down toilet paper from the roll, made a pile and did his business on the pile of toilet paper. He was 4 months old at the time and had never been given free reign of the apartment, so I was expecting to come home to my place semi destroyed but when I walked in, he was just lounging on the couch like a good boy…
House training was a breeze and although I do not miss the 4 AM potty breaks, I do miss when he was small enough to fit into my arms. I've recommended your kennel to friends and anyone who's asked about Theo. To any prospective owners, I highly recommend Doodle Creek. The facilities are clean and exactly as pictured, Nathan responded to all my emails, was clear with the instructions regarding pickup day and breeds gorgeous puppies. Theo has become part of our family and we hope to add another Doodle Creek baby to the house in the next few years.
All the best,
Sarah
Bailey
Parents: Paris x Captain
Owners: The Enns Family, Acton, ON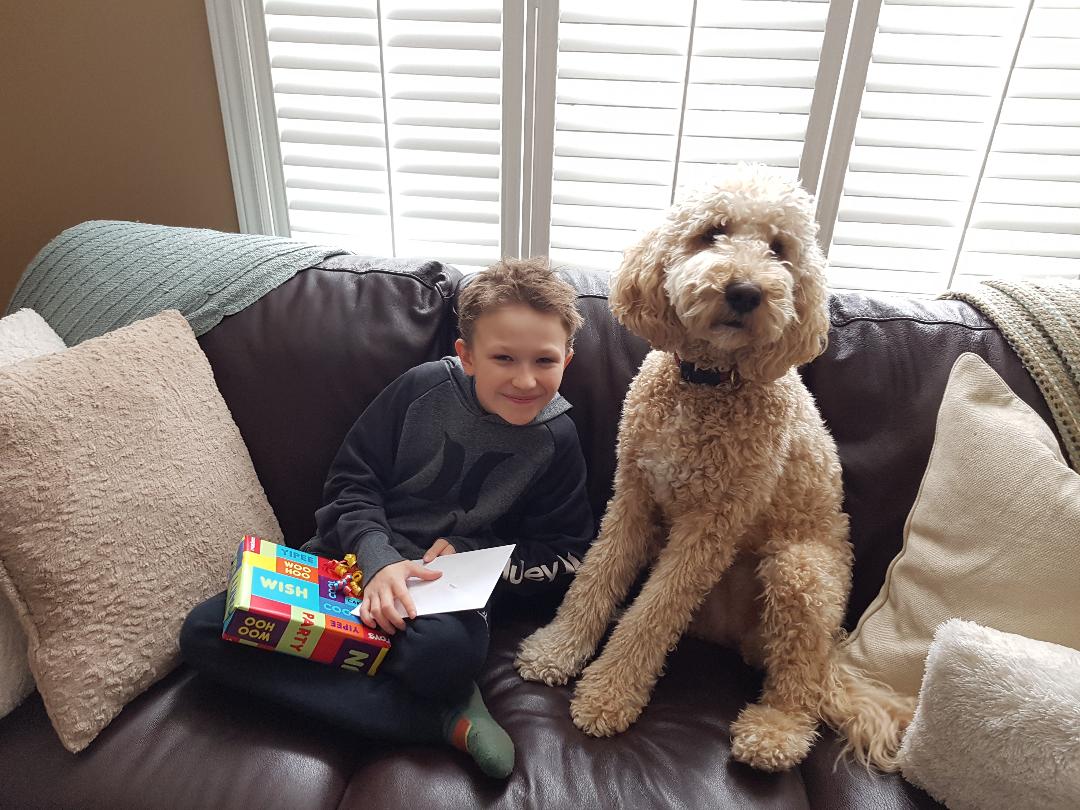 Hi Nathan,
Our Bailey from Paris and Captain is doing great! She will be turning 4 this year. She is a very gentle girl that brought a lot of love to our lives. She is great with people, kids , other dogs and cats. She loves to play outside in the snow, have a lazy day inside and absolutely loves going to our cottage. She loves to play in the water and look for fish all day long..lol! Boating is her favourite! We're very blessed to have her part of our family.
We found Doodle Creek on line searching for Goldendoodles. Our experience was very positive. Nathan let me come and chose our puppy versus other breeders wanted to choose puppies for you. He let me spend time with our puppy to ensure it was the right fit. I knew that he deeply cared about his dogs. I met his family and it was great to see that his whole family was involved. I would recommend Doodle Creek to everyone. As matter of fact we are considering to get a sister for Bailey this year from Doodle Creek!
Fergie
Parents: Tessa x Captain
Owners: The Thompsons, Hamilton, ON
Doodle Creek and Nathan Erb are absolutely wonderful, fantastic breeders.
We obtained our Goldendoodle, Fergie, from Nathan and Doodle Creek.
What is amazingly striking about all of the Golden Doodles at Doodle Creek is the fun-loving but kind and gentle temperament of the dogs.
Fergie is the offspring of Tessa and Captain. She is an absolutely gorgeous dog who, like her mother and father, has an incredible temperament. She is happy all the time, incredibly social with everyone, amazing with other dogs and children and so incredibly willing to please.
When we got Fergie as a puppy, we already had two other little dogs but wanted a larger breed. Fergie took to our other two little dogs, Rooney and Beckham, right away. They all love each other.
We recently added a Bernadoodle, Charlton, to the mix. We got her at eight weeks old and Fergie's mother instincts kicked-in. She is inseparable from Charlton and watches over her day and night.
You will not be disappointed in dealing with Doodle Creek. They were an absolute pleasure and are clearly passionate about, and absolutely dedicated to, breeding beautiful and amazing dogs.
Louie
Parents: Emmy x Max
Owners: Kristen & Mark
Hi Nathan,
I don't even know where to start. How can I even begin to describe all of the wonderful qualities of our Louie?
Louie is truly the light of our lives. Since the moment we brought him home from Doodle Creek, he has been a constant source of laughter and love in our home and with everyone he meets. He has such a calm demeanor, especially around young children and elderly people, and makes everyone laugh with his goofy personality traits and big sloppy kisses. We've had a number of people tell us he'd make a great therapy dog because of his sweet and loving personality.
Lou is one of the most popular guys in our neighbourhood. In fact, the kids on our street fight over who gets to pet him first, and he loves other dogs (as well as cats, who don't love him back). He loves to be outside and his favourite activities include going for hikes, taking swims in the river (unless there are ducks, ducks are scary!) and taking long naps on the couch in the sun.
As a city dog, he knows which baristas to give his puppy dog eyes to at Starbucks for a free 'Puppucino," has mastered scoring free treats from our local dog-friendly brewery, and knows what aisles at HomeSense carry the doggie toys. He was even the ring bearer at our wedding and completely stole the show in his little custom tux!
He was extremely easy train as a puppy, and now at 70 pounds and 3 years old, we affectionately refer to him as our gentle giant. We take him everywhere we go, and truly cannot imagine our lives without him. We are about to become parents this summer, and we have absolute confidence that Lou will be the best big brother ever.
Thank you for blessing us with Louie! We owe you so much for giving us such a wonderful dog. Honestly, we recommend Doodle Creek to everyone we meet.
If anyone is interested, you can see more of Louie on Instagram @kinglouie_thedoodle

All the best,
Kristen, Mark and Louie
Rapha
Parents: Paris x Captain
Owners: Jenna and Mike, Montreal, QC
Hi Nathan,
We are obsessed with our doodle, Rapha!! We knew we wanted a doodle, but never knew we'd possibly be able to love him this much!! Rapha is from Captain and Paris (Aug 2015).
We were nervous upon pick up never having visited prior. Our nerves were calmed quick when we arrived, greeted by Nathan and all the beautiful parent dogs who were outside playing. We went into the kennel and saw the puppies had a ton of space. Our puppy was showered and ready for us, and you could feel how comfortable the whole place was.
Although we bought Rapha untrained, it was clear Nathan and his family put in work. He was so quick to learn to pee outside and sat, lied and gave a paw within days.
There is not a doubt in our minds we would go back to Doodle Creek when we're ready for a 2nd puppy.
Worth the 8hr + drive for a quality breeder such as this!!
Frankie
Parents: Piper x Captain
Owner: Ashley, Toronto, ON
After owning many dogs and dog breeds over the years, we can finally appreciate why these Doodles are growing in popularity. At the risk of sounding cliche, our Doodle - Frankie - is the most beautiful dog we have ever had. Leaving this guy alone is no easy task because we love the excited kisses and attention when coming back home! He's a loyal friend, that's affectionate, quiet, rambunctious, and goofy!
He's the most human-like breed that we've ever had and feels like a true friend. He's mischievous and sneaky but so playful and personable. He loves winter gloves and will go to any measure to sneak up on you to snatch them at the most opportune moment - not to mention the roughhousing that he expects from his humans to get them back. A rubber ball which was gifted from a friend is his favourite toy - it's his go - to for beckoning us to chase him to try to steal it from him.
When enticed appropriately ( with literally anything even distantly edible) , he understands "sit down" , "down", and "high five". Our next goal is to train him to stop sleeping horizontally and across our legs on our bed as he thinks he owns the place.
Overall, we are grateful to Doodle Creek for bringing this adorable, giant teddy bear dog into our lives. Frankie was able to successfully integrate into our life in Toronto instantly. Our experience with Doodle Creek was seamless from beginning to end, and we know that you will continue to bring joy to many families with your beautiful doodles :)!
Stella
Parents: Tessa x Captain
Owners: The Rizeks, Woodbridge, ON
Hi Nathan,
Stella is about two and a half now. She is a dream. She has a wonderful playful temperament. Everyone who comes across her just can't get over how friendly she is. She loves meeting new people and dogs out on her walk.
I have 2 young children with whom she is so gentle with. Even when the kids get excited or run around the house Stella remains calm.
Stella is amazing; she rarely barks and was so easy to train.
We loved working with Doodle Creek. And when we get our second dog it will definitely be another English Goldendoodle from Doodle Creek!
Ellie
Parents: Paris x Bruno
Owners: The Abshers, Virginia Beach, VA
Ellie…..where to start. She is curious, intelligent, enthusiastic, vigilant, engaged, self entertains and is extremely loyal and in charge. Ellie's walks are always off leash because Ellie thinks it is her job to take care of us. She makes sure to keep an eye on us so we don't get 'lost' as she streaks around at about 23 mph (I clocked her on my road bike a couple weeks ago). She likes to walk around at home quietly with various things in her mouth (many pictures of her doing it). It can be a bottle of blue food dye, or pink lipstick, or a credit card from my purse…whatever strikes her fancy. You don't know, she could have scoped it out the day before and is biding her time, seriously. One day Clay was missing his earpiece and Ellie was sitting nearby watching us. She followed us around while we looked everywhere. I happened to glance at her and noticed she had a funny look on her face, and suddenly, I knew. She had it in hidden in her mouth the whole time, and she is THAT subtle with her pranks. No harm done, she opens up like a nutcracker and lets the item fall out with this deadpan look on her face. She is hilarious. We have so much fun with her, she is game for anything. Conversely, she is very gentle, loving and is emotionally tuned in to her family. I have never had a dog with so much intuition. Don't get me wrong haha, she is prey driven too. Like….if she sees a raccoon out the window she becomes highly agitated and starts whining and running around looking for an exit. She caught a squirrel a couple months ago, but since she comes from a long line of field dogs, that doesn't surprise me. We greatly enjoy her company, and she gets better every year. She weighs 50 lbs and turned five years old 1/1/19, we love her to pieces.
Milton
Parents: Paris x Bruno
Owner: Michaela, Westmount, QC
Hi Nathan!
Hope all is well!
Two years has gone by and and I am beyond grateful for my sweet Milton. He is the happiest, goofiest, smartest, sweetest dog I could have ever asked for. He is the perfect mix of Paris and Bruno! He loves everyone he meets and he gets a long with every single dog. He is all around such a kind hearted boy. His favorite thing is to go to the park everyday and we play fetch. He is a bundle of energy in the best way possible. He is my first dog and I can't believe how lucky I am to have him in my life. Ever since he came into my life, he stole my heart. He loves to cuddle and anywhere I go he follows. He is truly my best friend :) Here are some pictures of Milton. He is always smiling :)
Finding you guys at Doodle Creek was a blessing. I find all dogs are cute... especially Goldendoodles. However, a lot of the Goldendoodles I have met that are from another breeder aren't as cute as the ones I've met that are from Doodle Creek. There are a few Goldendoodles I know from Doodle Creek that live in my area and they are truly special dogs. Healthy, happy and well behaved. Thank you for everything!!!
Charlie
Parents: Piper x Captain
Owner: Allyson, Toronto, ON
My experience with Doodle Creek has been incredible from the first day. Knowing the look of doodle I wanted, Nathan helped pick the appropriate litter for me, and on pickup day, helped me pick the exact pup I was hoping for. I always loved the shaggy, teddy bear looking doodles, and Nathan was able to identify which pups in a litter of 10 would would be what I was hoping for. From the minute I held my girl, my life was changed. Charlie has been the most incredible addition to my family, and has such a funny personality. She is so intelligent and soft, she seems almost human at times. If we ever decide to expand our family, we will only come back to Doodle Creek. Thank you Nathan & Marilou!
Maddie
Parents: Paris x Bruno
Owners: The Pinsents, Gander, NL
We have a Standard English Goldendoodle from you. Maddie is will be 6 years old in April. We have since gotten another Goldendoodle from another breeder, not near the same dog. He's just a goofball. Maddie is beautiful, polite, listens and is agile. She is an amazing dog.
Love seeing your posts and hope all is well!
Ashleigh
Maxi
Parents: Emmy x Max
Owner: Christie, Owen Sound, ON
Hi Nathan & Family
Just wanted to send a little update on Maxi as she recently celebrated her first birthday on March 25. She is the daughter of Max and Emmy and was named after her Dad with that beautiful white coat. She has truly been the light of my life over the past year and is such a loving and hilarious girl. She has a gorgeous shaggy wavy coat and is cuter than I could have ever imagined. She LOVES people of all ages, especially children and is the happiest when she's playing off leash with other dogs or getting pet by the people around her. Her favorite activities include off leash hikes (especially in the snow), running through mud puddles, chewing sticks and bones as well as playing in the water. I am an active runner and she will gladly run a few kilometers with me on her leash. We get stopped at least once wherever we go with folks commenting how cute she is and wondering what type of breed she is. She eats this attention up – any excuse to be pet and loved on. She is very intelligent and successfully completed puppy school and caught on quickly to basic commands as well as potty training. Although she's so smart she can get a bit mischievous at times – typical puppy energy. She weighs in at 65 pounds currently with her groomer informing me she is the biggest golden doodle she has ever seen. It's hard to believe she was ever so little. She has a lot of energy but adapted to being crate trained quite well – she runs to her crate as soon as she sees me filling her Kong with her morning treats. I don't think I could have dreamt up a more perfect dog and am so happy with our entire experience. Sending some pictures along – I would love to see some of her brothers and sisters from her litter.
All the best. Can't thank you enough; she has changed my life for the better.
Love Christie & Maxi