Harvey
Parents: Penny x Dallas
Owners: The Thacker Family, Oakville, ON
Our experience with Doodle Creek was excellent. We heard about Doodle Creek from a friend who got their dog there. When we decided to finally bring a dog into our family, we contacted Doodle Creek to inquire about the process. After reviewing the website and the different types of dogs available, we put our name on the list for an upcoming litter. Their process wants some information on what your family will do with the dog (ie. outdoors, nature, city, only, young children etc.). Nathan contacted us back and suggested an upcoming litter based on the personality traits of the parents and what our family dynamics and activity is like. Our dog Harvey perfectly matches our family's activity, personality and dynamics.
Doodle Creek keeps you informed of the litter you are participating in and then posts pictures of the pups after they are born. As soon as the pups are old enough, you visit Doodle Creek to finalize your selection and arrange for pick up. Doodle Creek has a beautiful clean kennel and all of the dogs are extremely well cared for.
I would recommend Doodle Creek to anyone looking to bring a doodle into their family. They are an excellent breeder that truly cares about their dogs and matching them with good owners and families.
Rod Thacker
Nellie
Parents: Panda x Dallas
Owners: The Parsons, Guelph, ON
Hi Nathan,
We cannot say enough great things about our Medium Olde English Golden Doodle. Nellie is sweet, intelligent and playful. She will be 1 year old this April. She learns tricks very quickly and loves learning. We have a two month old baby now. Nellie has been fantastic adapting to the new family member. She is gentle and curious. We can't wait for them to play together in a few years. Nellie's fur is a beautiful combination between sheepdog, poodle and retriever. She is soft and non-shedding. We are very proud of our little girl!
Lucien
Parents: Penny x Dallas
Owners: Alexis & Caroline, Mont-Royal, QC
Hello Nathan,
First of all, thank you so much for letting us the opportunity to bring back home Lucien, who fits so well in our family. From the day we brought him home, he amazed us by how intelligent and calm he was. He learnt how to sit on command the next day, at only 9 weeks old. He was also clean in no time! Lucien is everything we ever wanted in a dog! Lovable, loyal, active, playful and pretty obedient when he needs to!
He is so easy going. He's always happy and willing to go on any adventure with us, plus he loves car rides, which makes it even better and easier!
He also has a loving personality, and LOVES to meet new people and new dogs. He has never shown an ounce of aggressiveness towards any human or dog. And he is even so gentle with babies! We went to a supper a few weeks ago where there was a 1 year old baby, and Lucien was so calm and gentle with him, and couldn't stop licking the baby's face! We know he will definitely get along well with the kids we hope to have in a few years.
He definitely brights up our day everyday; he always finds a way to make us laugh! He absolutely adores his bath times, which is pretty funny to watch! We now have to make sure the door is closed when we take a shower or a bath, or else Lucien will jump right into the bath tub with us (yes, it happened a few times!!!!). We can't wait to swim with him in the lake this summer at our cottage!
We have to say he stands out with his looks and personality, that's for sure! Everyone that crosses his path on the street just tells us how adorable and special he is. Every time, we can't help but say he comes from Doodle Creek, and that the 7 hours drive to get there, as well as the price to pay, is TOTALLY worth it. Doodle creek is a trustworthy breeder that cares so much for its dogs. We have no doubt that Lucien have had the best possible start in life, and that it had an influence on the temperament he has today. He is a very happy dog who never seems stressed. For example, how many times have I heard about dogs destroying all the furniture of the house when the owner leaves, because of anxiety? This has never been the case for Lucien. Although I work from home and spend 99% of my time with Lucien, I sometimes have to let him alone in the house for a few hours. Never has he done any damages to any of our furniture while I was gone! When I come back home, he seems so relaxed (I think he spends all this time sleeping) and is of course very happy to see me!!!
I can assure you I am always as happy as he is when I see him! We couldn't ask for a better dog, and that's thanks to you!
We hope to come back to Doodle Creek with Lucien for him to see his mother again!
Kind regards,
Caroline and Alexis
Archie
Parents: Paisley x Griffin
Owners Jamie & Gillian Schettler, Toronto, ON
Hi Nathan,
Jamie and I wanted to send you a quick email with some photos of Archie (Paisley and Griffin). We absolutely LOVE him and he has been the perfect addition to our family. Without fail, everyone who meets him comments about his colouring. He's our constant companion and so so so smart.
We were very happy and impressed with Nathan and the entire program at Doodle Creek. The facilities were beautiful and the dogs were clearly very loved and well cared for. We chose Doodle Creek for our new family member because our friends had such a positive experience when they got their puppy, Charlie, from Nathan. We had the same positive experience and have shared Doodle Creek's info with our friends and family in turn. Nathan was responsive to emails, very informative and went above and beyond to answer any questions and provide details about our new puppy. We have nothing but very positive things to say about Nathan and Doodle Creek.
Thanks,
Gillian
Gracie
Parents: Kona x Jake
Owners: The Kane Family, Barrie, ON
Hi Nathan
Thanks for your email. I wanted to tell you how much we love our Olde English Golden Doodle, Gracie. She is an absolute joy....very smart, affectionate, and a central part of our family. Was exceptionally easy to train, is great with our horses and stays on our property and is never tied up. We love her so much. I have included a photo of her. She is a bit dirty! That is why her paws look a little gray. Just wanted you to see her. We are so happy to have her.
Nancy
Oreo
Parents: Panda x Dallas
Owners: The Cantins, Santa Barbara, CA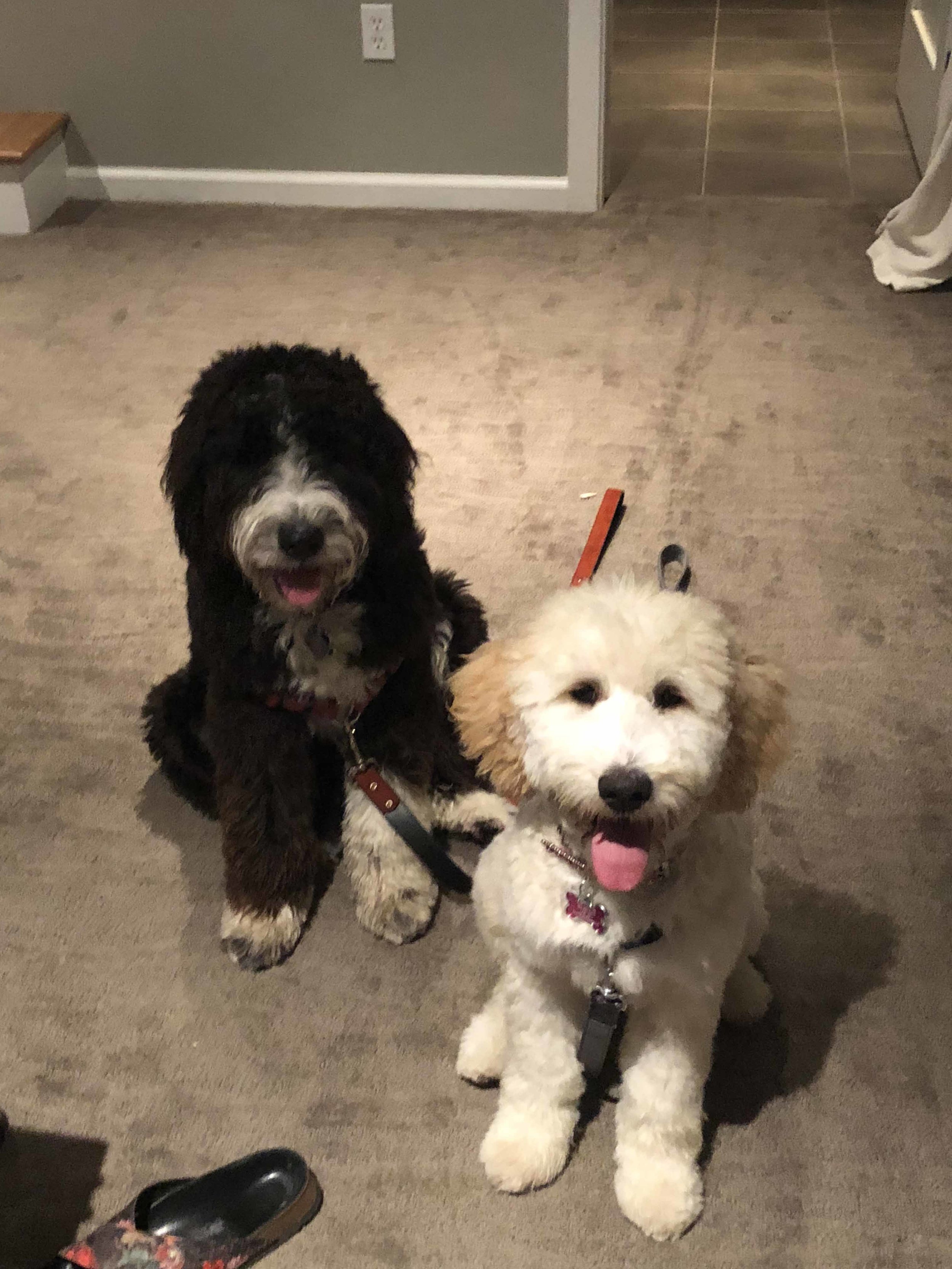 My family endured a major tragedy that captured national attention early 2018 destroying our loving family of four plus a frolickly Irish Setter to just two of us - my daughter and I.
My daughter endured being entombed under half the house and 20 feet of mud in a major mudslide that washed away our home with our family in it.
After physically healing enough, I knew I needed to get a dog for my daughter and she was set on getting a 'doodle'. Her doctor suggested getting her a therapy dog to help her cope with the trauma she endured.
I looked at many places but realized with everything my daughter and I were going through I could not take on the job of getting a young puppy and doing all the training.
I wondered one night "are their trained puppy doodles?" and I googled that and voila up came www.doodlecreek.com with the tab on available 'trained' doodles for sale.
Trained puppy doodles and a nice selection to choose from - this was perfect for us.
It was amazing for us a 5 month old trained puppy that would still have cute puppy without the work and fatigue of 10 week old puppy training. I smiled knowing I would avoid 'puppy teeth' which had in the past ruined expensive jackets, blazers and clothes. I brought home two trained puppies who did not soil in the house, eat furniture nor destroy things. This was awesome! And, being trained they seemed to assimilate to our home even faster than when I had young puppies in the past.
My experience with Doodle Creek was terrific.
Great communication and my first puppy Oreo was an Old English Doodle. He was trained so well by Full Pawtential Dog Training and trainer Heidi it made his transition to our family smooth.
The distance from Santa Barbara to Ontario Canada did not deter me. I flew to get Oreo and meet the trainer which was nice.
I loved Oreo so much and so thrilled with his health, temperament and experience I called Nathan at Doodle Creek to get Oreo a friend. He recommended Lucy a Goldendoodle that would get along well with Oreo.
Today, my daughter and I have a happy home with our two puppies whom we love and who love one another. The tragedy my daughter and I endured is being healed in some way with these two love bugs we so adore.
I highly recommend Doodle Creek if you are looking for a great family dog who is a showstopper in looks and in great health.
Best, Kim and Lauren Cantin
Santa Barbara, California
Barry
Parents: Panda x Dallas
Owners: Yvonne & Isaac, Willowdale, ON
Hello Nathan,
Here are some pictures of our handsome Olde English Goldendoodle, Barry. He is 10 months old and 40lbs. My how he has grown since we picked him up last summer!
Barry is a happy and playful puppy, with beautiful markings. He attracts attention wherever we go. He loves people and is very good with children. House training was no problem at all and he learning (and teaching us) new things all the time. He's been healthy and was neutered with no issues.
Barry has brought so much joy to our home. We are grateful to you all at Doodle Creek for giving us such a lovely pet, who has become a part of our family so quickly.
Yvonne & Isaac