Tobey, Bartley, Frankie & Maggie
Owner: Natalie, Oakville, ON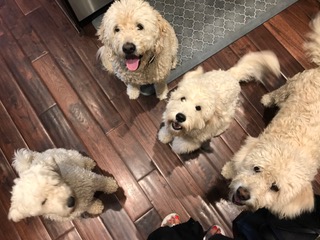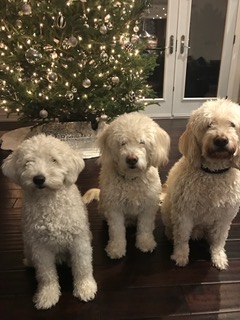 In May of 2008 I made the best decision of my life - I got my first Mini Goldendoodle, Tobey from Doodle Creek. Tobey brought so much joy to me, and I had such guilty feelings when I left him to go to work, I got him a brother in 2009. It was just Tobey, Bartley and me for several years. They were best friends and the three of us were the Three Musketeers. How difficult could one more be? So along came Frankie (Frankenstein because he was born on Halloween!). I lost my several of my "go to" dog sitters because I had three dogs now, but Frankie (the little devil), who kept us busy and laughing, was worth it. He definitely got his brothers moving more! It was three men in the house and three male dogs, so I decided we needed some female balance. Nathan contacted me about a beautiful little female puppy who was having some trouble in Oakville (NOTHING to do with the puppy - the owners just didn't realize how much work a puppy was) so it was destiny. Little Magnolia came into our lives. She is so sweet and cuddly - - - at night that is. During the day, Maggie's boundless energy gets the "old men" running around the park and the backyard, and she charms all who she meets. Two dogs? Easy. Three dogs? Harder but worth it! Four dogs? A lot of chaos, but these angels are my family! I love all of them so much and can't imagine life without them!
Kona & Bean
Owners: The Chafee Family, Toronto, ON
Nathan,
We would just like to send a note letting you know how great the experience of getting our Doodles from Doodle Creek. It was so good in fact, after a year with one English Golden Doodle, we went back and adopted her sister from the following years litter (same mother and father - Kona and Duffy)
From the original online investigations of how to adopt a puppy, through the waiting process for the puppies birth to the final pick up - we found the process easy, accessible and most of all - fun. The online access to images of the developing puppies and their litter mates helped keep the excitement going until pick up day. Our mass of emails to Nathan were answered quickly and honestly which helped prepare us for our new additions.
Because we have adopted two puppies from Doodle Creek, we were able to see the incredible transformation from the original location to the 5 star facilities that is now home to Doodle Creek. The original location was certainly adequate and the puppies and dogs were obviously well taken care of, but the new kennel is incredible. Clean, efficient and comfortable for dogs and humans alike. It is great to see that money is being reinvested in the well being of the animals and their kennel. This is certainly reflected in the quality of dogs that are coming from Doodle Creek. Our two dogs are healthy, well adjusted and extremely friendly. The only thing better than having a puppy from Doodle Creek has been having TWO puppies from Doodle Creek.
All the Best,
Tina, Rob and Olivia Chafee (as well as Kona and Bean)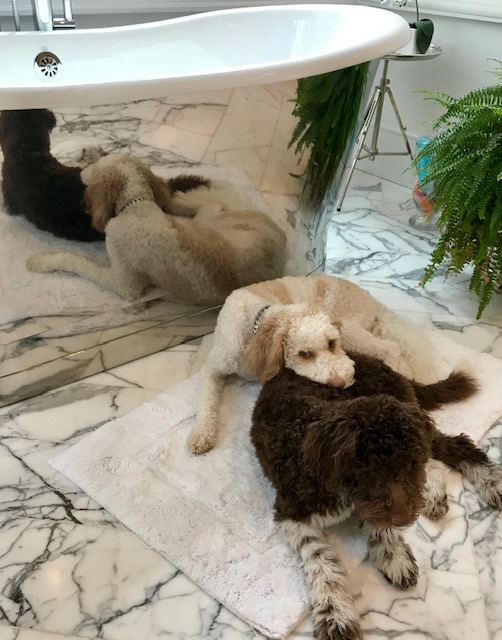 Yuna & Nahla
Owners: The Mizuta Family, Chicago, IL
Hi Nathan,
Yuna is the reason why we got another dog from Doodle Creek. She fits our family dynamic perfectly and she has since day one (after a 15-hour flight to Hong Kong!). She's super laid back at home but loves to run outside, she loves our children and vice-versa (they play dress up together!), she looks like a teddy bear and can be so goofy! We love her so much.
Yuna and Nahla complement each other well. One is super playful, energetic (Nahla) and the other one is chilled (Yuna). Yuna is the boss, she always keeps an eye on Nahla, she'll bark if Nahla gets stuck behind a door or when Nahla got spayed, Yuna lied down by her side to comfort her (it was so sweet). They keep each other company, they love to play tug of war with my husband's socks and / or chase each other outside.
You guys make great doodles, they are sweet, loyal, solid (I know they'll never snap) and so much fun. They make great companions. I've had so many compliments about my dogs, so many people have asked me where they were coming from and I'm always happy to share your name!
Best to you and your family,
Chloé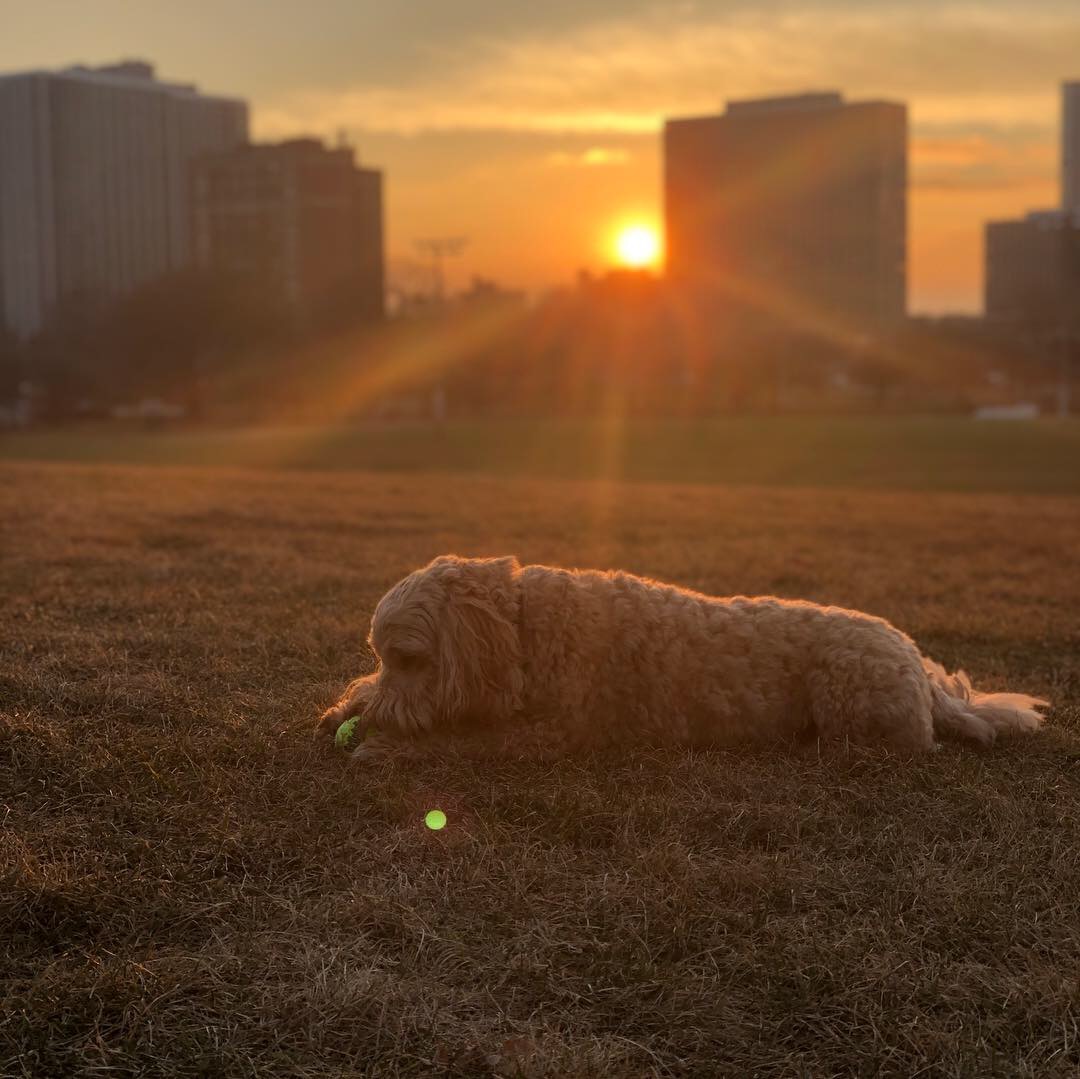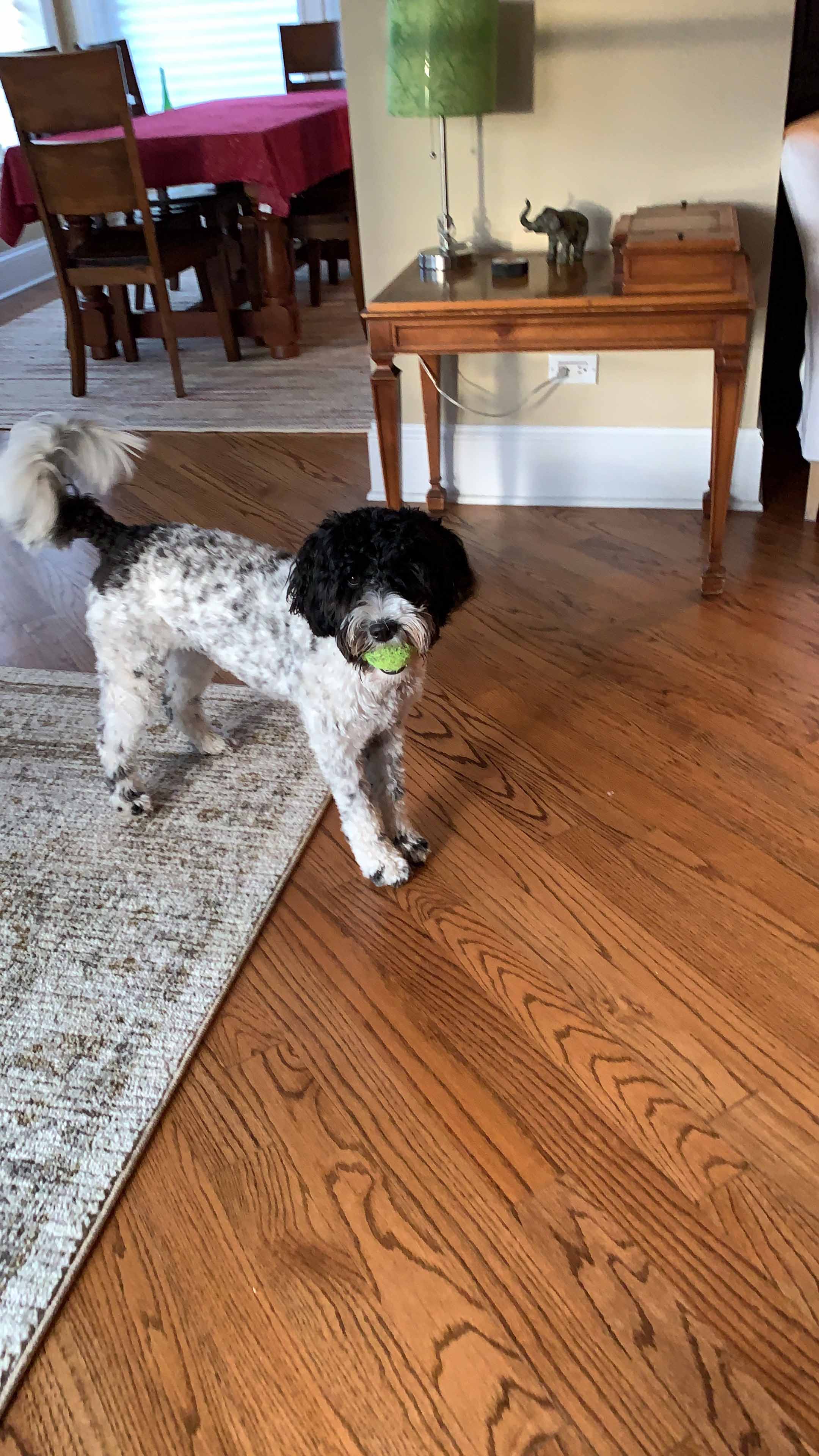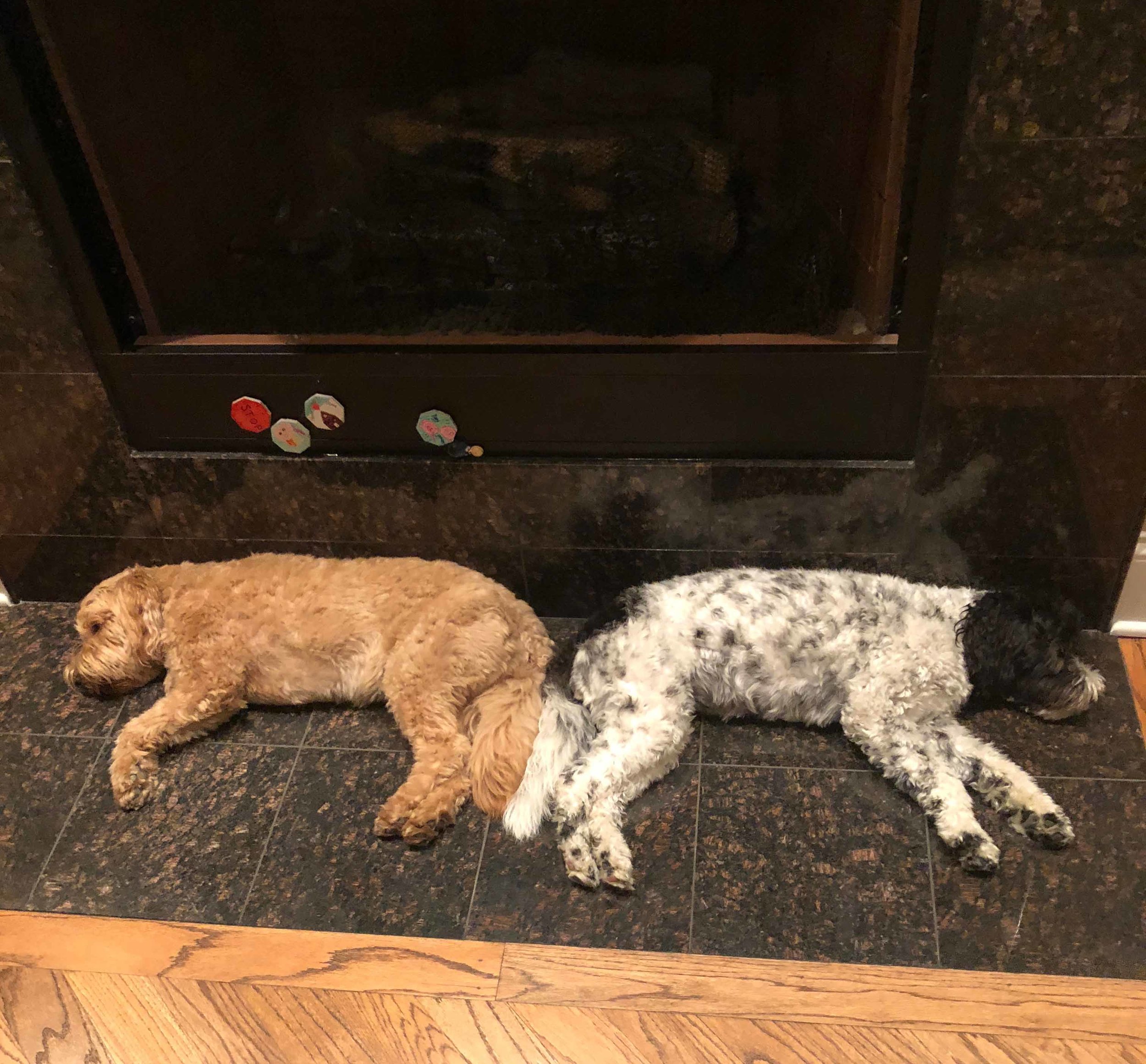 Bunny & Dexter
Owners: The Gardners, Brampton, ON
Hi Nathan
This is Bunny and Dexter. Bunny is our "Tiny Golden Doodle" from Miley and Bentley and Dexter is our "Mini Golden Doodle" from Mitzi and Buckwheat.
We wanted another puppy as we loved and enjoyed Dexter our first Doodle from Doodle Creek so much - why not have twice the fun "Double Doodles"...
Bunny our second Doodle Creek puppy is an amazingly loveable little girl always giving the best doggie kisses - she is just over two years old now and weighs about 20 pounds.
Dexter is 6 years old now and weighs about 42 lbs. He is a very calm and loving fellow a qualified Saint John Ambulance "Therapy Dog" giving comfort and spreading warm smiles at seniors homes every week.
The two of them are great friends and Bunny has learned all the ropes from her big brother Dexter. They are such smart dogs!
We are always asked where we got our wonderful dogs and without hesitation tell them Doodle Creek!
Thank you so much for the love and care that you take to breed such amazingly calm, intelligent and loving dogs...
Jeff and Janet
Charlie & Stella
Owners: Stephen LeDrew & Lorraine Greey, Toronto, ON
Dear Nathan,
We had been wondering about getting a second dog for a while. Any time we met double-dog families we enquired, and we heard over and again how positive an experience it was to have two dogs and how the interaction between them was a huge part of the fun. Our first dog, Charlie, was three when we brought Stella home. We have never looked back. The two of them are great friends, and quite devoted to each other. Stella keeps Charlie young! Yes, proper training is crucial, but that's the case for even a single dog. Both of our dogs are from Doodle Creek. They are both healthy and beautiful, smart as a whip, socially at ease, and full of personality.
One plus one is double the fun. We LOVE having two Doodle Creek doodles. Charlie and Stella turn heads wherever they go, and bring us a ton of joy. They keep each other company, and the interaction between them charms us daily.
We were so impressed with the professional, caring atmosphere at Doodle Creek that when we decided to get a second doodle, there was no question of which breeder to turn to. Nathan and his team breed healthy, smart, sociable dogs, full of personality. Now we have two Doodle Creek doodles and couldn't be happier with them.
I hope you and your family are very well, and the beautiful new kennel is working out exactly as you had hoped. We will be in touch if/when we are brave enough for three!!!
With kindest regards,
Lorraine Greey
Lucy & Georgie
Owners: The Ford Family, Pasadena, NL
Hi Nathan,
So glad you messaged. Lucy is from Juno and Bentley March 9, 2012 and Georgie from Macey and Oakley July 31, 2017. We immedielty fell in love with Lucy. She is such a kind, loving, smart doodle. When she arrived it took no time to house train her and teach the basic commands. Lucy was and is the perfect pup, so perfect we couldn't resist getting another. When Nathan messaged me and said there was a puppy available we were thrilled. We could not wait to meet the newest addition to our family. Georgie was equally as smart and easy to train as Lucy was. Lucy took on the role of Mother and she had her hands full, lol. Georgie is a goofy, playful pup with a huge personality, who constantly makes us laugh! We couldn't be happier with both our pups from Doodle Creek. Many thanks to Nathan and Marilou!
Cindy
LuLu & JoJo
Owners: The Dennison Family, Clinton, NY
We first worked with Doodle Creek in 2015. We were considering adding a dog to our family (3 high school and college aged children) when we ran into a Doodle Creek doodle in Old Forge, NY. We fell in love and contacted Nathan to learn more. We added our LuLu (May 2015, Piper and Captain) four years ago and agreed that life was now perfect. She was the easiest puppy and to this day continues to be our treasured companion and friend. We love her so much we felt guilty she didn't have anyone just like her in the house so two years later (May 2017, Piper and Captain again!) we brought home her sister JoJo. We would do it all again, again and again! Our girls are the best of friends and sisters. They are regulars on our local college campuses and students sign up to walk them or just hang out with them. We take them everywhere-- they love the car, think hotels are great, and transition from big city to country with ease. I'm trying to convince my husband that three would be even better and triple the fun.....stay tuned!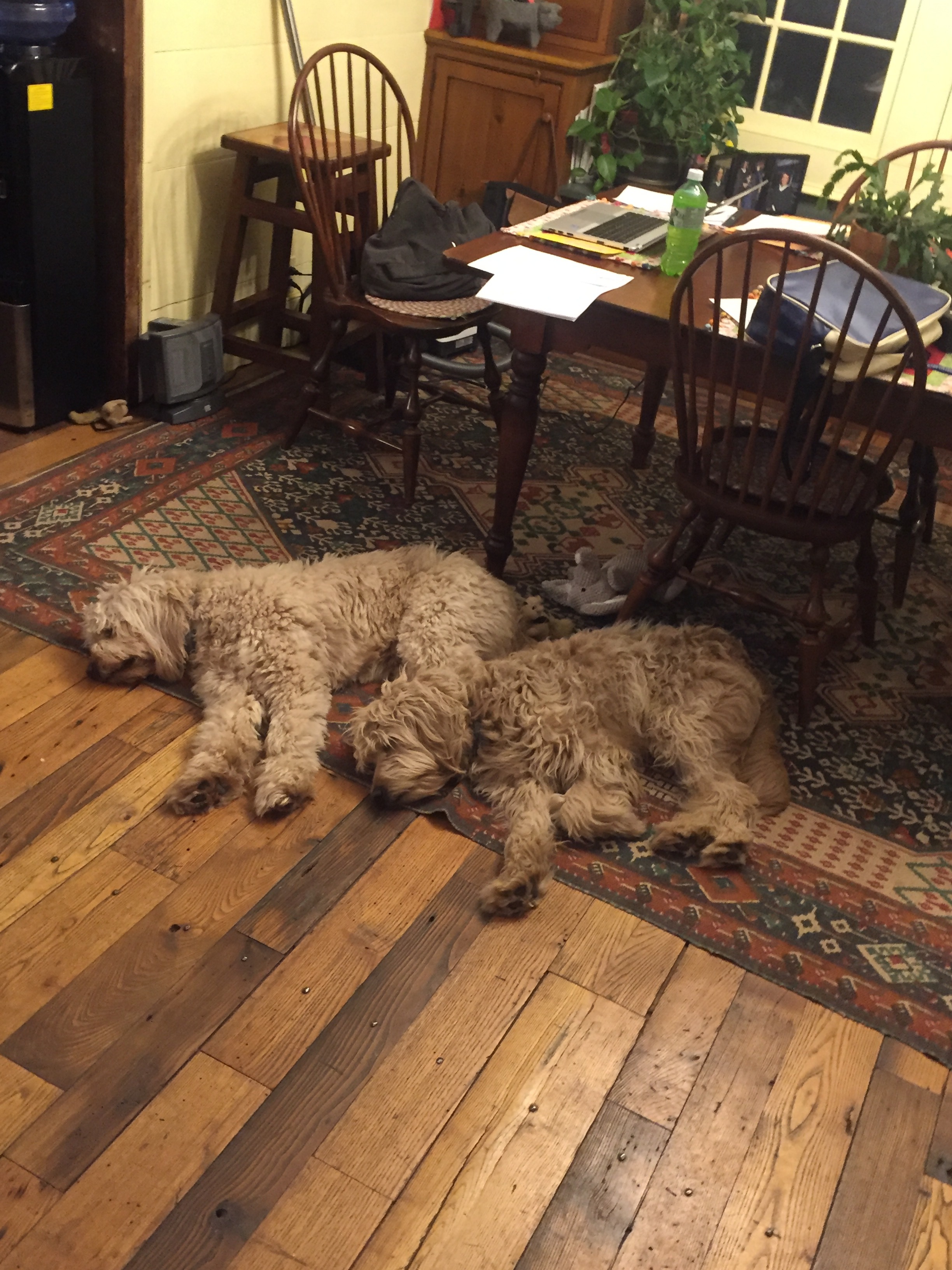 Henry & Charlie
Owners: The Zarembas, Toronto, ON
Doodle Creek is the only place to go to find your pet family members! Nathan, Marilou and the staff are so attentive, respond quickly to emails and explain the entire process for the selection of your puppy. The facility is state of the art and anyone who steps foot on the property can see the dogs are all looked after very well and they are happy. Doodle Creek doodles are such lovely dogs. Our boys Henry and Charlie are very gentle, happy and love to be with their humans. They are curious and playful and love to snuggle as well. Our pups are virtually inseparable. They love to play and run around together and they also love to curl up together for a nap. Their wonderful temperament works so well with infants and children. They know when they need to be extra calm. The main benefits of owning multiple doodles is that they are never lonely. They have each other to keep themselves entertained. We also enjoy their companionship and personalities, it's double the fun and double the love. Everyday is a new adventure for them and we are so happy to share our lives with them.
Nick and Daniela Zaremba
Linc & Mia
Owner: Dawn, Calgary, AB
Hi Nathan,
I'm not sure if you remember me but I have two of your wonderful puppies, Star and Buckwheat and from Skye and Bentley. My sister is getting her puppy from you on Thursday this week too, all three of these puppies will be playing together this weekend!
Since I have had Linc, my parents have been in love with him and now with Mia too. They have been talking about getting a dog for a long time and I have worked out with my mom that we want to surprise dad with a puppy. They are retired in the country in PEI so no doubt this puppy will have quite the wonderful life of beaches and romping in the yard!
I would like to get them an F1 Mini English goldendoodle. My first choice would be from the same parents as either of mine but that might not happen. So I'm hoping you will know if you are going to be planning any puppies around mid /late July?
Phoenix & Gryphon
Owner: Sarah Legacy, Toronto, ON
Congratulations on the opening of your new facilities!
I might be a little biased, but I think I might have the two best goldendoodles ever. Thank you for producing such wonderful fur-buddies. Their temperaments, personalities and overall appearance are complimented everywhere we go (people literally stop us on the street).
Mae & Nelson
Owners: Dave and Abby Gouett, Kingston, ON
We took home our first Doodle from Doodle Creek in 2015. We have owned lots of dogs, but Mae quickly became a favourite. She is such a good natured, family oriented dog. It broke our heart in our busy lives to leave her alone all day, so we took the plunge this year and brought home a companion, Nelson, from Doodle Creek. He is a fun loving, playful mate for Mae and they are inseparable. Family walks are a lot more fun now.
Dave and Abby Gouett