Loki
Parents: Mia x Oakley
Owners: The Boyds, Mississauga, ON
We are so happy with our decision to purchase a puppy through Doodle Creek. He has been an amazing fit for us and he is an amazing puppy. He is so smart, affectionate, happy, playful and loveable. He gets along with every person and animal. We have 4 grandchildren ranging in age from 1 to 10. He loves them all so much and they love him as well, especially our 5-year-old twin granddaughters. We got Loki shortly after Les retired so he has someone home with him most of the time. He gets lots of walks and lots of playtime and a lot of attention. He is the light of our life and I cannot imagine life without him. We crate trained him and he adjusted very well but the crating didn't last long at all. He was housebroken in about 2 weeks and we stopped putting him in his crate after about a month. He doesn't get into anything he shouldn't and doesn't ever have accidents in the house. He is the most well adjusted puppy I have ever seen. We put him in private training classes just to work on his walking, jumping and some other commands and the trainer is amazed at how smart and what a fast learner Loki is.
We would recommend Doodle Creek to anyone thinking about getting a puppy and if we ever decide to get another puppy, we would definitely get another Doodle Creek puppy.
I have attached a few pictures I picked out. It was hard to choose as we have so many great pictures of Loki. I have a lot of videos of different funny and cute things that Loki does if you would want any of them for your website. Please let me know.

Take care.
Linda Boyd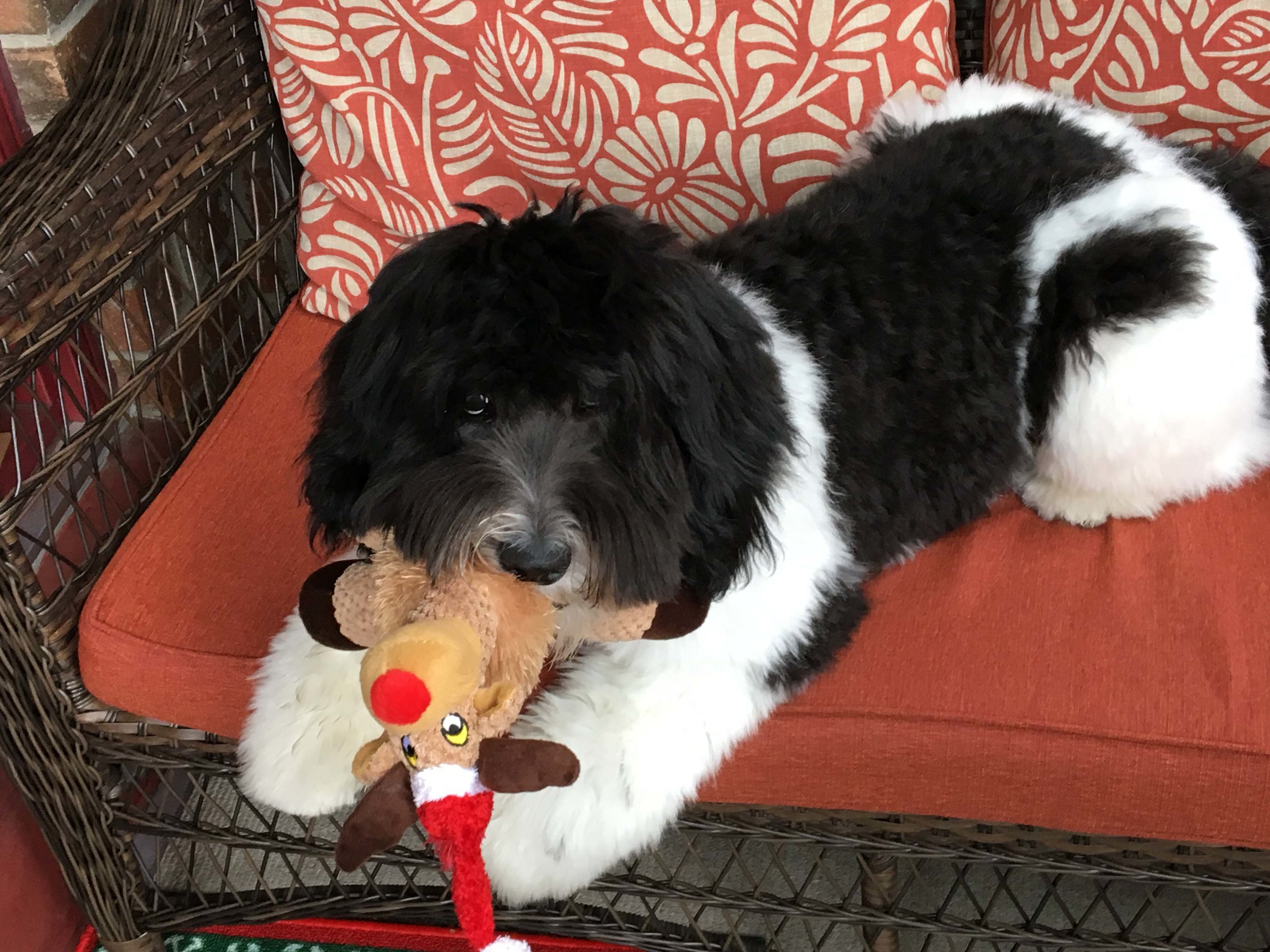 Stanley
Parents: Skye x Bentley
Owners: The Grays, ON
Hi Nathan,

Thank you for checking in. We are all well.
Stanley will be six years old next week but I can remember picking him up from you at Doodle Creek like it was yesterday. We actually surprised our girls, so when they got home from school, they found an adorable little doodle running around the house. It was a very happy day for everyone!
Stanley is firmly one of the family and, as you had told us, he goes everywhere we go and does everything (well, almost everything) that we do. We cannot imagine life without him.
My family's experience with Doodle Creek has been wonderful. Nathan was very responsive to our many questions and helped provide us with the information we needed about choosing and caring for a puppy. When we visited Doodle Creek, both Nathan and Marilou were warm and welcoming. Doodle Creek is very much a family-run business. We could see that they cared for every dog and that their family all took part, which we found very assuring. We could not be happier with our Doodle, Stanley, who has become a very important part of our family.

All the best to you and your family,
Alison Gray
Chester
Parents: Adelle & Dallas
Owners: Ovidiu & Mihaela, Toronto, ON
Hi Nathan,
We just wanted to say thank you very much for such a marvelous puppy! Chester (Adelle & Dallas) is an amazing addition to our family, very well balanced, with a great temperament. He's so smart and cuddly. Chester brings so much love and happiness into our home. He has managed the transition very well. We love him a lot. You did a wonderful job raising him until he was 14 weeks old.
You are a blessing to many families who adopted one of your puppies.
We thank you for being an amazing breeder.
Ovidiu & Mihaela
Georgie
Parents: Duchess x Buckwheat
Owners: The Firestones, Toronto, ON
Georgie Girl (Duchess & Buckwheat 2014), an F1b mini doodle is our first dog and has brought nothing but joy to our home. Aside from being unbelievably cute she is a polite, smart and very well behaved. Countless people stop me on the street to ask her breed. In the city she is a true city smart dog - at our cottage she runs free and plays like a new born puppy. Nathan and Marilou Erb and Doodle Creek breed great family friendly dogs
Howard Firestone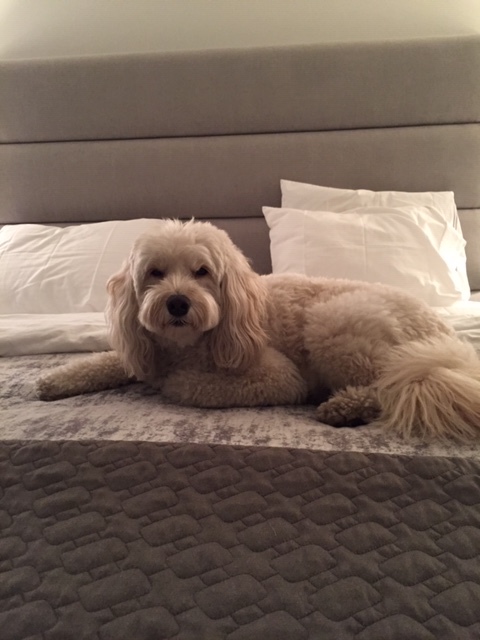 Harry
Parents: Mia x Oakley
Owners: The Narmeri Family, Toronto, ON
Here are some pictures of Harry, our Mini English Goldendoodle from Doodle Creek.
Harry is the most friendly, loving and fun dog we know. Harry lives in a 25th-Floor Apartment with us in the big city. He even rides the bus and the subway sometimes. He is always a gentlemen, sits nicely and makes friends wherever he goes.
We were very happy with the experience of buying Harry from Doodle Creek. We received a lot of great information beforehand, and the process was clear and easy to follow. We are happy we found Doodle Creek and really happy that we found Harry.
Regards,
Zohar and Marc Nameri
Murphy
Parents: Mabel x Benjie
Owners: The Martyn Family, Corbeil, ON
Hi Nathan,
I'm submitting a few of my favourite pictures of our wee Murphy!! (Mabel & Benji- Feb 14, 2017)
We just LOVE our boy!!!
(Still interested in the possibility of adopting his mom Mabel some day! We recognize that she is still breeding)
Hope this finds you all well!
Jody Martyn & family
Vinny
Parents: Cinnamon x Benjie
Owners: The Baldinellis, London, ON
Vinny is our new love! He is sweet, gentle, smart and happy! We are so lucky to have gotten Vinny from Doodle Creek. Nathan helped us with our puppy choice and couldn't have been more kind and compassionate. And the facility... outstanding! So clean and bright! What a wonderful place for these puppies to start their lives at!
Thank you to Doodle Creek for giving us the true gift of love and companionship in our dog, Vinny ❤️
Bentley
Parents: Mia x Oakley
Owners: John & Helen Foster
Dear Nathan
My name is Helen Foster, My son and I visited your place two years ago and bought a puppy born on December the 7th 2016. If you remember we were choosing between the one puppy we had set aside and the last black and white puppy .We bought the puppy we had set aside.
We can hardly believe the puppy we bought from you is now two years old. We are an elderly couple both in our early eighties. We have had dogs all our married life and we have never had a dog that was this smart or this loving. We call him Bentley. He was so easy to train and is very obedient. We take him everywhere with us and people always mention how well behaved he is. He sits between us when we drive and never stops looking around. We have loved all our dogs ,but this one has truly captured our hearts. He is very energetic and gets us out for walks. He loves to watch TV especially the animal shows and is the right size to sit between us on the couch. Not shedding is a plus. Thank you for our very wonderful dog
Helen Foster Mississauga
Hunter
Parents: Pippa x Oakley
Owners: The Hersak Family, Toronto, ON
Hi Nathan,
Our dog was born July 25, 2015, and his parents are Pippa and Oakley (Pippa's male #3). His name is Hunter. As you can see in the photos, he looks a lot like Pippa. I am happy to provide this testimonial because we had such a positive experience dealing with you as a breeder and with Hunter since he joined our family. In fact, we were referred to Doodle Creek by several other families we know and have referred you to many others since. So much Doodle happiness! We fell in love with Hunter the moment we met him and he has been a part of the family from the start. He has a lovely friendly goofy disposition and is the most loyal companion. He took to training really well which was so helpful because we had never owned a dog before. Now, 3 1/2 years later, our family can't imagine life without him. Hunter loves kids, snuggles, steak, tennis balls, and...socks!! He is about 50 lbs. I have provided some photos from the day we picked him up to one from this month and yes, he really does fetch the newspaper every morning!
Best regards,
Alix Hersak
Tedd E
Parents: Pippa x Oakley
Owners: The Roberts Family, Keswick, ON
Hi Nathan,
We picked up Tedd E in Oct 2015, from Pippa/Oakley July 25, 2015. It did not take long for him to steal everyone's heart! He is intelligent, easy to train, and lives to snuggle! To keep Tedd E mentally and physically challenged we do flyball with him, he gets so excited to see his flyball bag come out! He is very good with all children who visit our home, and LOVES when our grandkids come to stay. Tedd is very friendly and lovable, has never chewed anything in our home, and loves all people and other dogs. He is friendly and outgoing. Doodle Creek is definitely where we will come for our next pup. We could not be happier with our entire experience from placing our deposit on. You do a spectacular job of breeding great pups!
Thanks
Paula Roberts
Finnegan
Parents: Piper x Buckwheat
Owners: Debbie and Rita Gardner
Hi Nathan and Marylou,
Finnegan is thriving!!! We love him to the moon and back. He weighs 49 lbs. He loves the snow and he loves it when he gets a knuckle bone to naw on. His tennis balls are his favourite pass time. He loves pushing them under furniture and the kitchen table and then trying to retrieve it. If he can't get it by himself he stares at us with his big brown eyes and waits for us to get it for him. He also loves tormenting our Cat Lily but when he is tired he lets Lily lie beside him on our couch. It has been a wonderful year creating lots of wonderful memories and looking forward to creating many more. All the best to everyone a Doodle Creek.
Debbie and Rita Gardner
Sadie
Parents: Phoenix x Bentley
Owners: The Guest Family, Kitchener, ON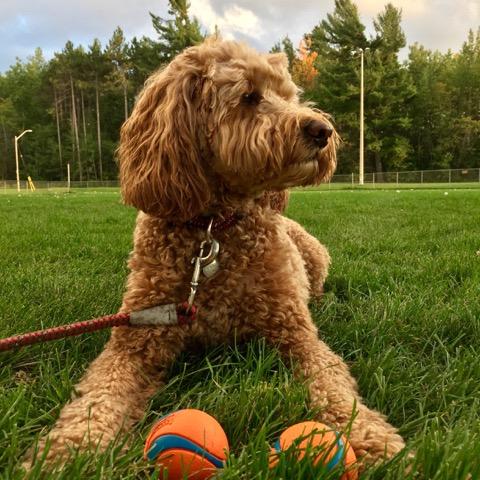 Hi Nathan,
An opportunity to talk about my love for my girl Sadie and my positive experience with Doodle Creek? I'm in!
Life is most definitely better with a Doodle Creek Doodle! Sadie is a total love who has brought much joy to my life and who has become furry family. She is a full-fledged social butterfly who is eager to meet and greet any human or canine that crosses her path...with kisses for all. And as gregarious as she is, she is also incredibly loyal and very much attached to her pack, especially her mama (...sometimes too much so?!). Her sweet disposition also makes her an awesome Canine Ambassador, working as part of a team with me to promote well-being and positive mental health in the elementary school where I teach. Students and staff alike adore her and the feeling is mutual. Sadie is a clever girl who was easy to train. She is playful, curious, and just a touch mischievous! She loves the to run like the wind, do agility, play with her pup pals at the park, and give her a piece of cheese or ball of any kind…with a special place in her heart for a Chuck It...and you've made her day! And as active is she can be, she is just as happy at home snuggling on the couch.
Love her more than I thought possible. Thank you for the gift of Sadie.
Jen
Oliver
Parents: Star x Buckwheat
Owner: Heather Anderson, Toronto, ON
This is our beautiful boy, Oliver. He is, without a doubt, the best dog I've ever known. He's sweet, sensitive, funny, and an absolute integral part of our family. We simply adore him.
Oli is now almost 4 years old.
I am constantly asked where he came from because anyone who meets him, falls in love. Am proud to say that we've enticed several people to adopt dogs.
Thank you Doodle Creek for this little guy. The son of Star and Buckwheat!
Archie
Parents: Mia x Oakley
Owners: The Sdao Family, Parry Sound, ON
We picked up our puppy, Archie, from Doodle Creek on Family Day weekend 2017. He has been an amazing addition to our family and we could not have asked for a better dog. We got our first dog, Charlie from Doodle Creek in 2012. We have been very pleased with the puppies that Nathan and Marilou have provided us over the last number of years.
Gloria, Larry, Heather & Christopher Sdao
Darwin
Parents: Mia x Oakley
Owners: The Ossip Family, North York, ON
We have had Darwin for about a year and a half. He is a happy, playful and sweet dog who is constantly excited to see us. He has brought a great energy and warmth to the household. We couldn't imagine life without him! Thank you Doodle Creek!
Dusty
Parents: Piper x Buckwheat
Owners: The Oranski Family, Collingwood, ON
Our puppy Dusty, Piper's male is doing beautifully. He is quite bright and is learning quite quickly. He uses the training pads well and is learning to go outside. He loves going outside.
He adjusted to the crate really well. No crying on Saturday night, a little bit on Sunday and then no issues the rest of the week.
No mess in the crate and I get up with him only twice during the night.
He is very playful . We absolutely love him and we know that you are an excellent breeder.
We will forward pictures as we go along.
Thank you.
Irene
Cooper
Parents: Pippa x Oakley
Owners: The Stewarts, Ottawa, ON
Hi Nathan,
You may remember our family from the summer of 2017 when we brought home a puppy from the Pippa and Oakley litter. He was male 1. We've fallen in love with him as he's such an amazing family dog with a playful and funny disposition. I've attached a couple of pictures of him that we took this past summer.
We are now wanting to add another member to our family. We are thinking of a female this time from a litter that is parti-factored like Cooper (as we call him). We would want different colours of course. We would be very excited to have a relative of Cooper if possible. We would be interested in early June for bringing the pup home.
Can you please keep me informed of an upcoming litter that you think would fit with what we're looking for?
I hope you and your family have a wonderful Christmas and I look forward to hearing from you.
Regards,
Karrie
Ginger
Parents: Mabel x Benjie
Owners: The Regans, Nobel, ON
This is Ginger. She has been an awesome pet so far! Her fur is extra soft and she's always up for hugs. Doodle Creek has been super professional from start to finish with the purchasing of our puppy 16 months ago. They gave great advice and answer questions right away. Ginger is a part of our family and has an amazing temperament. Friends who have looked after her have gone out and purchased a Doodle Creek puppy themselves; which speaks for itself! We highly recommend this kennel for your next dog.
Sincerely,
Nancy Regan
Lola
Parents: Skye x Bentley
Owners: Allyson & Mackenzie Schurr, Calgary, AB
Lola came into our lives nearly two years ago. We had spent a lot of time looking into breeders and wanted to find the best place with the best dogs. To our luck, we did! Doodle Creek gave us our favourite and furriest family member and we could not be more in love with her. Last year we had our son, Holden and she has been so gentle and so kind every step of the way. We are excited to watch them grow up together and can't wait for what wonderful adventures await them.
Joey
Parents: Piper x Buckwheat
Owners: The Zelyuks, Toronto, ON
Joey is just over a year now and he is the best ! We had a great experience picking up Joey. Everything was so smooth and Nathan was able to help us with any questions we had. I would recommend Doodle Creek to anyone looking for a responsible trustworthy breeder.
Thanks,
Tanya
P.K.
Parents: Pippa x Oakley
Owners: The Goldbergs, Thornhill, ON
Hi Nathan,
It's nice to hear from you.
P.K. is doing great. She's being trained as an emotional service dog.
With continued work she should be certified by summer.
When she's not training, she loves playing in the snow, or playing Keep away.( she gets 1 of her toys & comes up to us, as we go to take the toy, she moves away, only to repeat the action over & over again).
She's a great member of our family & we love her dearly.
She's supper healthy & is a perfect 34 lbs.
P.K will be 2 years old this May 19.
Thanks again for touching base.
Kind regards
Mark & Ellen Goldberg
Tucker
Parents: Star x Buckwheat
Owner: Andrea Pyman, Wellington, ON
We were so happy to be able to have Tucker come join our family and become a little brother to our 4 year old Mini Golden Doodle Rusty who was sad and lonely after our Golden Retriever Max passed away at 13 years of age. We brought Tucker home and right away he wanted to make friends with Rusty. He was brave and happy and it didn't take him very long to win Rusty's heart and help him out of his loneliness.
Tucker has continued to be a very sweet and loving dog. He is very attached to his family, both dog and human. He loves both of us and our adult children when they come to visit are greeted with such excitement and love. Recently we have added another pup to our 'pack' and Tucker is now showing what a good big brother he can be as well. He is very cuddly and playful and he really wants to please us. He is a mid-size dog and weighs about 42 lbs. His fur is mostly non-shedding and very soft and lightly curled. He has had no health issues at all. We just love this little guy and he is super loving in return.
Pooka
Parents: Phoenix x Bentley
Owners: The Pikes, Toronto, ON
Hi Nathan,
Pooka has by far been the best dog we've ever had. Loyal, smart, loving and very very soft. She is now almost 4 years old, and is just as playful as the day we brought her home. We have you to thank for her calm and willing personality. Doodlecreek is an excellent breeder, and we have living proof of that. All the best to you and your family.
Yours truly,
David & Paula Pike
Harley
Parents: Phoenix x Bentley
Owners: Jenna & Ryan, Caledon, ON
Hi Nathan,
I've attached a few photos of our red, English golden-doodle Harley. He was born Nov 5, 2013, came from Phoenix and Bentley's litter. He's pushing the max weight for mini at 50 lbs (52 in the winter haha).
We did a lot of research before we decided on a Goldendoodle from Doodle Creek, and ultimately we picked Doodle Creek because of the reputation, the environment in which the pups are raised and the health guarantee.
Harley is unlike any dog we've ever owned, he is truly a little human with a tail. His personality is the absolute greatest. He is goofy, friendly, SO intelligent (if being too smart is a thing, I would put Harley in this category), energetic and overall the happiest dog on earth. Everyone Harley meets he thinks is his new best friend (not a great guard dog) but his loving and friendly attitude makes the feeling mutual. He LOVES people, never cared much for other dogs, gets along well with other dogs but would much rather be with humans. We think it's because he truly believes he is human haha. Harley was quickly potty trained and learned a number of tricks almost instantly. He even sticks his tongue out on command (we clearly ran out of tricks to teach him). We can't say enough good things about Harley or our experience with Doodle Creek. Thank you for giving us Harley, he is the light of our lives.
Jenna & Ryan